Meet Matthew Miller – Union Papertech's New Managing Director!
Recently, Union Papertech appointed a new Managing Director, Matthew Miller. Matthew has over 20 years experience within the paper industry, achieving trailblazing developments along the way.
We decided to sit down with Matthew to ask him some questions about his new role and his plans on 'brewing' up a storm in the filtration paper industry.
Quick Facts About Matthew
Hobbies: Karate and walks around the Lake District.
Pets: Poppy, a Wirehaired Vizsla.
Favourite Film: Blade Runner.
Favourite Book: Iain Bank's Culture Series.
Tea or Coffee: Coffee (up to 15 cups a day!)
Best piece of advice given or received:
"I can remember one of my first bosses describing what you do at work like stirring a bucket of water. The stirring is your contribution; you can create a big stir but as soon as you stop the water returns to its previous state. I believe the moral of the story is that to always try your best and be proud of your work but never get ahead of yourself because no one is indispensable."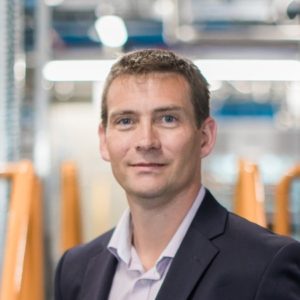 What attracted you to Union Papertech?
"Many things really… I like to think of myself as an innovator and after learning more about the company, I quickly discovered all the interesting innovations that have taken and are currently taking place at the mill. I've always been fascinated by the science that goes into manufacturing paper and I couldn't pass on the great opportunity to work in such an interesting and overlooked industry.
What can you bring to Union Papertech?
"I believe I can bring a dynamic, modern, forward thinking approach to Union Papertech. I have a background in engineering and improving the environmental credentials in products. Union Papertech has just produced a new 100% biodegradable product and I'm confident that I can use my knowledge to find opportunities for this paper that will take the company to the next level."
How have you found working here so far?
"It's been fantastic. I'm surrounded by a group of hard working professionals who have an incredible knowledge of the industry with an undeniable loyalty and affection for the business and our customers. It creates a positive vibe around the workspace which I think is very important."
Where do you see the company in 5 years time?
"In 5 years time, I can see the company being in a very powerful position globally as a trusted partner to customers, both in our established hot beverage markets and more broadly within filtration. At the same time, I would like us to be recognised as a valuable part of our community, providing secure, well paid and satisfying jobs.
If you have any questions for Matthew, please feel free to send them to sales@upapertech.com